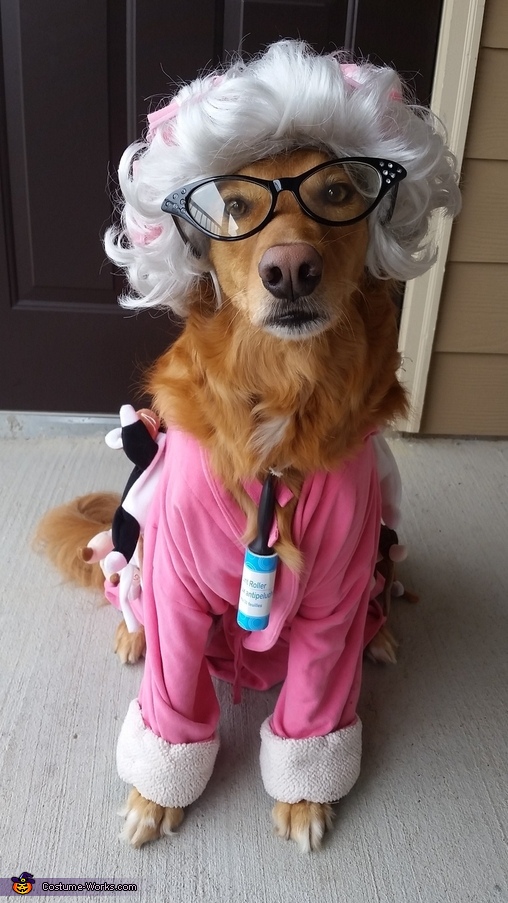 Crazy Cat Lady Dog Costume
More views:
(click to enlarge)
A word from Breinna, the 'Crazy Cat Lady' costume creator:
Enjoying the fun and the challenge of coming up with an original costume idea for my sweet girl Maizy is something that I think about all year long, not just around Halloween time. Being a quirky animal lover myself and recognizing the humor behind "The Crazy Cat Lady," I knew years ago that this had to be Maizy's Halloween costume. I searched the internet and found only a couple of ideas that had been done on humans but no such costume that had ever been done on a dog before. With Maizy's funny personality and her love for our cat Gizmo the costume was a perfect fit. While creating Maizy's Crazy Cat Lady costume, I searched thrift stores high and low for the perfect little robe and lots and lots of cats. The grey wig also came from the thrift store which I was more than ecstatic to find. The cats were attached to the robe with safety pins strategically placing them in every nook and cranny even peeking out of her robe pocket and hood for a little added humor and detail. The robe was comfy for her to wear as it was just tied around her body and the sleeves were rolled up and pinned so that they would not trip her as she walked. I placed pink rollers in her wig and topped it off with a little grey cat really giving the idea that she is the crazy cat lady and they are crawling all over her. Every granny has to have a pair of granny glasses so that's just what Maizy got. And not just any glasses, but cat eye glasses at that! The were attached through loops made from the elastic holding the wig on her head. And seeing as how a crazy cat lady would be covered in cats she would most definitely need a lint roller to take care of all that cat hair so I attached one to wear around her neck like a necklace using elastic. Maizy happily wears her costume because she knows it equals a lot of attention and treats. Maizy wore her costume to a few events around Dallas and everyone instantly recognized her as The Crazy Cat Lady and wanted to take pictures. There were lots of laughs and many people were impressed by her patience with wearing the wig and glasses. We received many congratulations on the originality of the idea and Maizy adored all of the attention. We also posted a picture of this costume years ago on our instagram page that received many likes and at the time it was the only one of its kind that I could find. Perhaps we were the very first to create such a costume which I think is pretty neat.