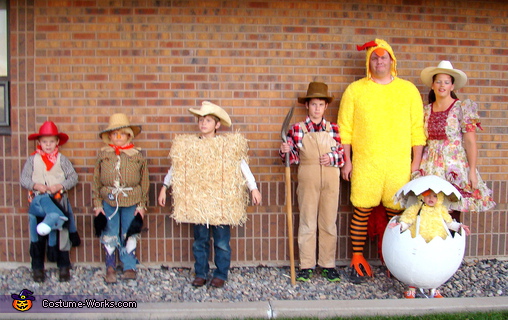 Cowboy, Scarcrow, Bail of Hay. Farmer, Rooster. Chic in Egg, Cowgirl
More views:
(click to enlarge)
A word from Julie-Anne, the 'The Family Farm' costume creator:
This year my husband decided my daughter needed to be a chic, not just a chic but a chic in an egg. Not just and egg but one that she could hide in and pop out of and walk around in! That was a tall order. With some paper-mache, plaster and a little creativity we made it work. It is a tradition that we dress in theme so the rooster costume was my way of get back at him. The hay bail, scarecrow, cowboy, farmer and cowgirl were an added perk. The theme was a hit and it was so much fun!!!