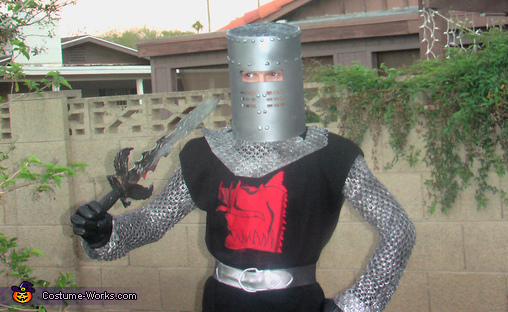 Black Knight from Monty Python and the Holy Grail
More views:
(click to enlarge)
A word from John, the 'Black Knight' costume creator:
For this year I decided to be the Black Knight from that hit classic Monty Python and the Holy Grail. My costume consisted of chainmaille sleeves and neck piece, a helmet, a tunic and tights. The chainmaille I made entirely out of soda can tabs that I had been collecting all year. The helmet I made out of a garbage can and used hot glue to give it texture. The tunic and leggings were made out of scraps of my mom's fabric that I found in my garage. My costume is completely homemade and cost me $8 to make (the eight dollars was for paint and the garbage can only because I don't think I could have put up with the smell of a used one!).