Choo-Choo Train Costume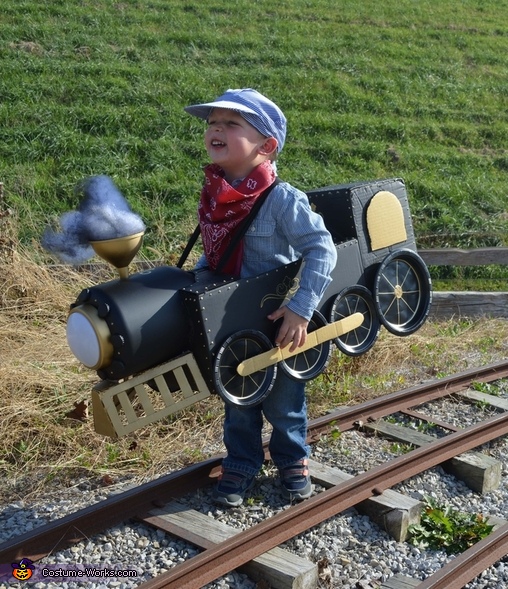 Taking his train out on the (unused) tracks at the museum
More views:
(click to enlarge)
A word from Eva, the 'Choo-Choo Train' costume creator:
My three-year-old son is obsessed with trains. We bought him a wooden train set last Christmas and there was no going back! After a fun-filled train themed third birthday party in August, I decided to capitalize once more on his infatuation before he falls in love with something new. It's hard to admit, but I may miss the trains after this phase passes!

Growing up, my parents always had a very limited budget for my three older siblings' and my Halloween costumes. Often, I felt annoyed because I couldn't be one of the more popular store-bought character costumes that all my friends were. However, I always ended up with a costume that I was so proud of. My parents teamed with us to make awesome DIY costumes that stretched our creativity (and crafting skills) to the max. We often placed well in the local small-town costume contest, which was a fun added bonus.

I take pride in continuing the DIY Halloween costume creating with my family. With one son and a second baby on the way, I don't want to spend a lot of money, but I want my son to have a costume that he loves. With a $4 budget, some things around the house, craft supplies I had around the house, some clothes we already had, and a train-loving three-year-old; we "choo-chooed" into the 2016 Halloween season!

Here's how I made it:
-The train body itself was made with a diaper box (for the long part) and a bulk wipes box (for the back/cab part). I hot glued them together and my husband used flat black spray paint to paint them. The gold rivets are gold puff/craft paint dots.
-The engine is an empty protein powder tub with a hole drilled in it for the funnel ($1 for a pack of three funnels at the dollar store). Steam is made from poly-fil (used to stuff handmade pillows/plush crafts) sprayed lightly with black spray paint. The front is a touch light ($1 at the dollar store, using batteries from home) surrounded by bottle caps.
-The gold pilot/cowcatcher was made with flaps from the diaper box and hot glued together, and then glued to the bottom of the engine.
-The wheels are black plastic plates (I bought two sizes for a $1/pack in the party section of the dollar store) with gold paint pen accents. The gold strip on the wheels was made from the long flaps of the diaper boxes and spray painted gold. Details on the train were drawn with a goal paint pen (I made my own template to trace using my Cricut cutter and sticker paper).

Assembly required an occupied toddler and burning nearly every fingerprint off my fingers with hot glue seepage. It was painful, but well worth it!

He wore a shirt he already had (along with his jeans and shoes). The train whistle, engineer's hat, and bandanna were purchased as party favors for his birthday party.

DIY costumes challenge me to make something my son will love and be proud of while staying within a reasonable budget for Halloween. Mission accomplished!

PLEASE NOTE: The pictures on the train tracks were taken at small train station with permission from the employees on a track that wasn't in use.