Child's Plays Chucky & Tiffany Costume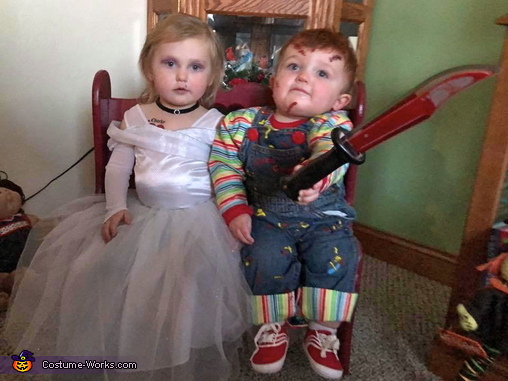 See my big knife?
More views:
(click to enlarge)
A word from Lumarie, the 'Child's Plays Chucky & Tiffany' costume creator:
For Chucky's costume I bought a pair of overalls & used fabric paints to paint the little art graphics on them. I used fabric puff paint to write 'Good Guys' on the pocket, sewed large red buttons over the snaps for the straps & the cuffs I made with the material I ordered to make the shirt. I cut the shirt pattern from the material & sewed it together & then sewed it over the top of a red sweatshirt to get the red neckline & sleeve cuffs.....also added warmth! I cut the back of the shirt open & added velcro closures to make it easier to put on & take off. I bought the red tennis shoes & used white fabric paint to put the stripes on them. Bought the 'blood' filled knife. Used temporary orange hair color on his hair & the scars are temporary tattoos. For Tiffany's costume I used a Cinderella dress that I already had but removed the Cinderella emblem, pumpkin coach skirting & large blue bow. I bought the black jacket & black combat boots (can't see in pics) & the necklace I bought but it was leopard print so I used fabric paint to make it black. The make-up & mole were applied with purple eye shadow & a black eyeliner pencil. Our usually sweet easy-going grandson Jasper was quite proud of his costume & 'amost' took on the personality of Chucky when he jumped up with a smile on his face (pictured) & chased his mommy with the knife! And my granddaughter Elliana cooperated so well in getting ready as she believed she (Tiffany) was a princess!