Child's Drawing Costume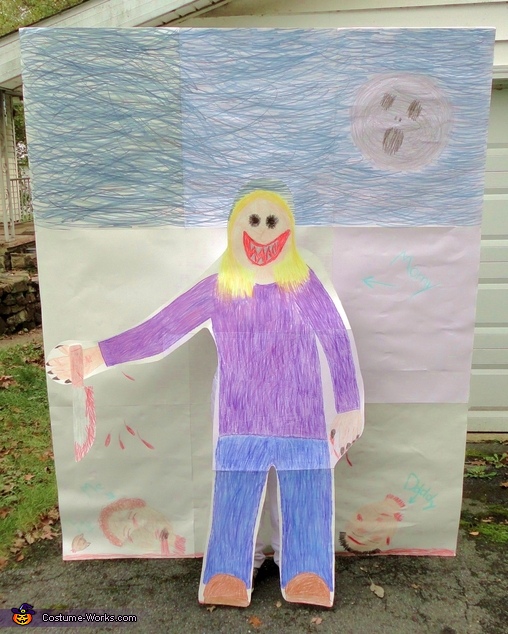 Full costume
More views:
(click to enlarge)
A word from Athena, the 'Child's Drawing' costume creator:
I am wearing this costume that I made from around 50% thrifted materials. Only the paper, tape, and glue I used were purchased new. I'm not sure what gave me the idea, just popped into my head when I was thinking of costume ideas. The premise is a child's scary drawing come to life.

I started by using packaging tape to connect 9 pieces of poster board to make the back of the costume drawing. I taped/glued several corrugated plastic sign boards (connected together with their metal bases) that I'd purchased from a thrift store outlet center to it for structure. I tied two ribbons to part of the metal to use as sholder straps for wearing the paper.
Setting that aside to dry, I then taped another nine pieces of poster board together to make the front. I taped together three more pieces of poster board and had my husband trace around me as I lay on them.

I cut out my traced shape and placed it on top of the large paper I'd made. Keeping the cut-out in place, I used crayons to draw the picture. The knife is a separate piece. Once the drawing was complete, I set aside the cut-out and positioned the drawing onto the structure piece. With an Exact-o knife, I cut slots into the picture and pulled the arm strap ribbons through. I taped around the cuts to keep them from tearing.

Careful to keep the top layer even with the back I secured them together with more packaging tape and glue. I taped scraps of poster board to the cutout to stiffen it, then taped a ribbon to the back to wear it around my neck.

When it was time to wear the costume, I put on white jeans and a white shirt so as to blend in with the paper. I darkened the area around my eyes with black paint.

It turned out to be too tall to wear in my house. We were able to fit it through the door sideways. It wasn't as difficult to walk around in as it looks. My measurements were a bit off, so it did drag on the ground unless I stood up as tall as I could.