Chester the Cheetah and his Hot Cheeto Costume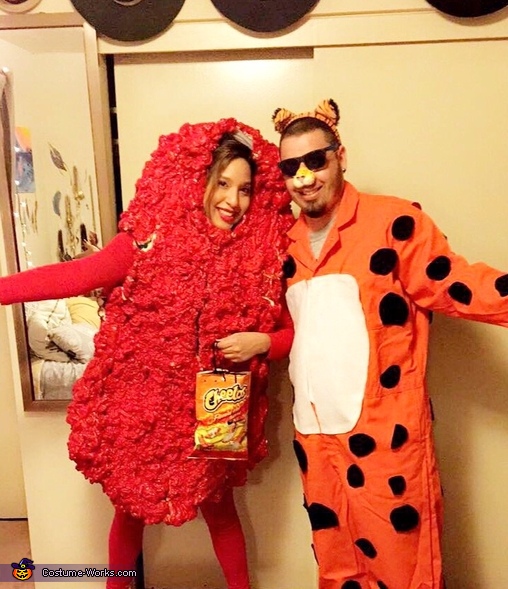 Chester the cheetah and his hot Cheeto
More views:
(click to enlarge)
A word from Ruby, the 'Chester the Cheetah and his Hot Cheeto' costume creator:
I have been a hot Cheeto eating queen since the age of 8. I am currently now 26 years old and I still to this day always have a fully stocked pantry full of hot Cheetos. I receive bags of cheetos for birthdays, anniversaries, holidays etc. I guess you can say I permanently have red Cheeto fingers. I had always wanted to dress up as a hot Cheeto for Halloween because it's totally me. My boyfriend was actually the one who wanted to make it couple style so he agreeed to dress up as Chester the cheetah and we finally went for it.

I used an old pickle costume I had in storage from years ago and I sprayed it with expanding foaming spray the kind you use to seal cracks in the bathroom or kitchen and then I spray painted the foam red. Finally when it all dried up it really expanded and it gave it that real puffy look almost like a life sized hot Cheeto. For the Chester costume I used orange coveralls and I used felt material to glue the stomach and all the spots and tail then I painted his face and he used sun glasses and white gloves to complete his look.

Everyone loved it and thought it was a super clever idea because nobody has ever done it before. We got a lot of high fives and thumbs up everyone wanted a picture with us.

Chester the cheetah was very warm and comfortable in his costume but it was very difficult moving around as the hot Cheeto it was very stiff almost like a cardboard feel so it was not very mobile. I pretty much waddled everywhere although it was super fun wearing it I'm glad it was only for a few hours. I think we should win this contest because this is something that hasn't really been done before it's so clever and so original. Hot Cheetos has always been a part of me and will always be till the day I die. If I win this contest I will be taking my boyfriend and I to New Orleans to celebrate his birthday During Mardi Gras.