Charlie Brown Costume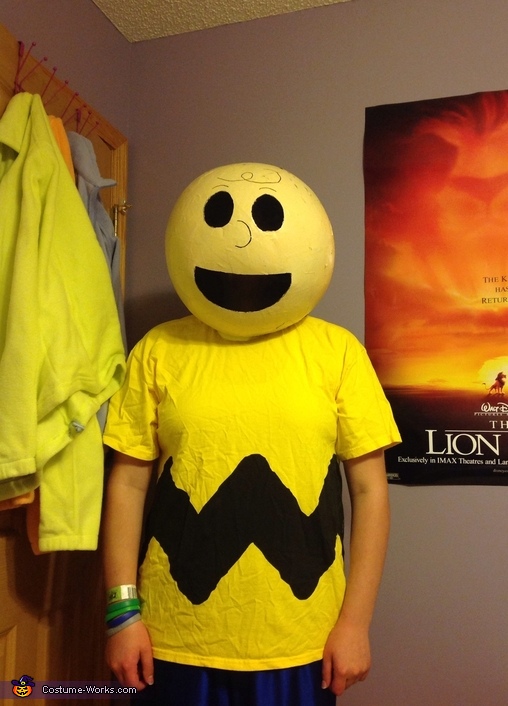 Charlie Brown Costume
More views:
(click to enlarge)
A word from Hannah, the 'Charlie Brown' costume creator:
I am wearing this Charlie Brown costume. I got this idea while watching the tv show Charlie Brown, and also from looking at a website with cool homeade costumes. This costume is pretty easy to make, and the step by step instructions on how to make this costume are below:
Step 1: blow up a beach ball
Step 2: place beach ball on bowl so that it is stable.
Step 3: cut newspaper into medium size strips.
Step 4: get a bowl and mix the same amount of Elmers glue and water together.
Step 5: Coat newspaper in glue, but make sure the paper isn't to runny.
Step 6: place about 4 layers of paper mache onto the beachball. MAKE SURE EACH LAYER IS DRY BEFORE MOVING ON TO THE NEXT LAYER!
Step 7: when all layers are on, and dry, let the air out of the beachball and take it out of the little whole at the bottom of the paper mache. At this time you can also cut a whole for your head.
Step 8: your paper mache head shouldnow be finished and its onto the spray paint.
Step 9: take your head outside, and pick your color of spray paint. First use a primer, and then use the spray paint. Make sure no newspaper is showing.
Step 10: when spray paint is dry, then trace ovals for the eyes and a half a circle for the mouth.
Step 11: you can use scissors or an exacto knife to cut the mouth and eyes.
Step 12: next draw the eyebrows and nose with a permanent marker.
Step 13: if you want to put see through black fabric in the eyes and mouth, then hot glue that on the inside. You can get this fabric at Jo-anns.
Step 14: the shirt can be bought at Amazon, or other online websites
This costume was fairly cheap. The shirt cost around $12.00, the spray paint was about $8.00, and the fabric for the eyes and mouth cost .99 cents. The rest was free, unless you need a beachball, which you can get at your local dollar store.