Phoenix and Gryphon the Carousel Horses Costume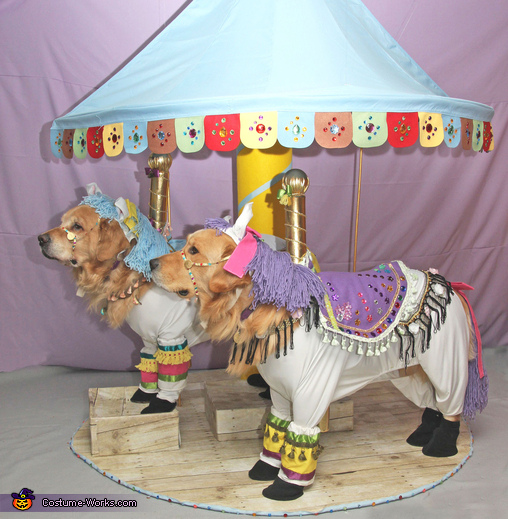 Phoenix and Gryphon as Carousel Horses
More views:
(click to enlarge)
A word from Bonnie and Beth, the 'Carousel Horses' costume creators:
Fun is in the air as the carousel goes round and round. Phoenix and Gryphon are the carousel horses, ready to take you for a spin. Gryphon is the horse with the lavender mane and tail, while Phoenix has a mane and tail of light blue. Climb onto the horse of your choice, grab onto their shiny brass pole, and enjoy the ride!

We chose to dress Phoenix and Gryphon as carousel horses because we love how beautiful and colorful these horses are. We thought we could make pretty decorative costumes that everyone would enjoy. These carousel outfits were hand-made. The bodysuits and saddles were sewn out of white spandex and felt. The saddles were embellished with rhinestones, jewels, and tassels. The mane and tail were made from colored yarn, and the hooves were made from black denim. The poles are thick foam covered with gold lamé. The bridles were made out of gold ribbon decorated with fabric circles. The carousel was also hand-made by decorating a canopy top, making a center pole from posterboard and felt, and a circular platform from foamboard covered with woodgrain paper.