Cannabis Fairy Costume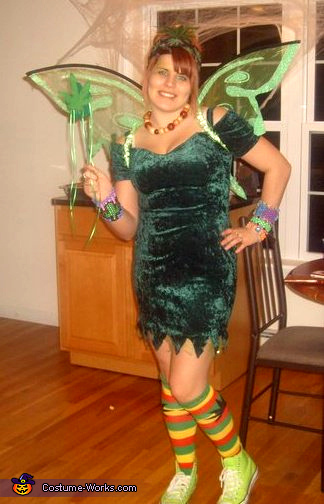 Cannabis Fairy Costume
More views:
(click to enlarge)
A word from Katie, the 'Cannabis Fairy' costume creator:
You will need:
Green dress (mine was free from a friend who owns a consignment shop)
Pair of green pointy wings (rounded wings don't match the look)
Rastafarian striped socks ($6 at Spencer Gifts)
Green shoes
Wooden wand
Felt
Paint
Ribbon
Appliques, fabric cut outs, etc for finishing touches
Scissors
This costume is low budget but still original and cute. You can add your own modifications if you desire, such as sewing cannabis leaves on the dress, different makeup, etc.
How I made the wand: I bought a flower shaped piece of wood with a stick attached and painted it green. I glued a felt cut out to each side of the wand, and green ribbons too.
How I altered the dress: I cut the bottom to make it shorter because it was an awkward length to begin with, but I also made it pointy based off of Tinkerbell's dress.
My accessories: plastic hemp leaf from The Body Shop during a promotion for their hemp seed oil products, wooden beaded necklace (known as "jungle beads"), pony bead marijuana cuff, striped rasta colored knee high socks and "raver kandi"
What I would have changed: I would have gotten different color contacts, preferably lime green because the standard UV reactive green did not meet my expectations. The wings were from Big Lots and really cheap, and they eventually broke so I would get a higher quality pair of wings.
Approx. cost: $15-20