Bulldozer Costume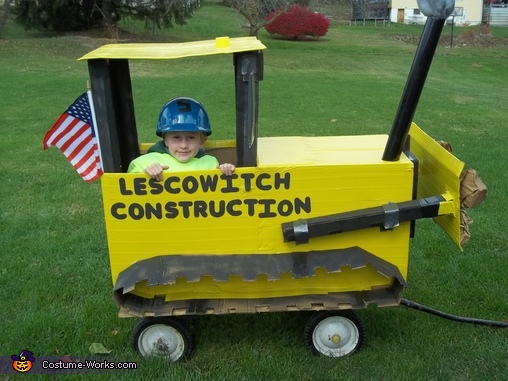 Lescowitch Construction
More views:
(click to enlarge)
A word from Tammy, the 'Bulldozer' costume creator:
My son Thomas age 5 loves watching bull dozers and back hoes so i figured this would be a great costume for him. so i got boxes from my local store, the materials that was used was cardboard boxes, plenty of duct tape. aluminum foil for the mirrors and lights... poster board for the letterings... a hard hat that i got from a yard sale.. i got a scrap pc of pipe from a local plumber for the smoke stack. a wire hanger and some stuffing for the smoke...
I cut out a side of each box and then taped them together to make one full box..(plus it gave him plenty of leg room inside.. duct taped the whole box in yellow.. taped pcs of cardboard together for the runners and just taped them to the sides.. taped the front plow and zip tied it to the other pcs of cardboard and then for the hood of it.. i had a very tall box and just dut down the sides and zip ties it to stay standing.. at the top of the frame.. i made a slit and made a flat top and taped it down.. laid the top onto it and zip tied that to help keep it stay... i covered all the zip ties with the color of the tape to hide it.. i made a hole for the smoke pipe and got the cloth hanger and wrapped it in the stuffing and spray painted it to give it the dark color of it... i cut out mirrors for the side and just cut out a slip and poked it threw and just hot glued it to keep it steady.. took a long pc of cardboard and put in aluminum foil for lights.. i used a big box for the radiator and painted that black.. you cant really see it in the pic cause the plow is covering it.. a toilet paper roll for the top.. i cut out letters and #s for his name of it.. the # is his age.. i added the american flag and wrote.. made in the usa in the back..
and he loved it!!! and he won 2 place at the town parade and the ppl loved it as well... hes one proud boy!!!