Bloody Mary and the Wolfman Costume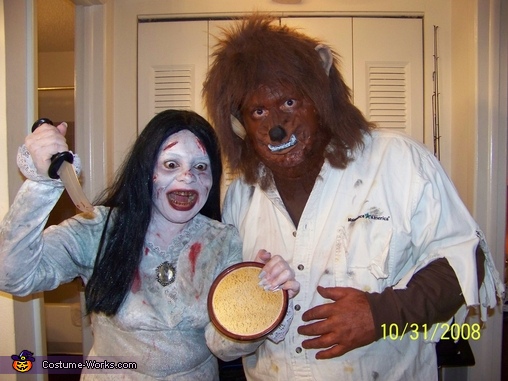 Bloody Mary Meets the Wolf Man
A word from Rita, the 'Bloody Mary and the Wolfman' costume creator:
I (Rita) am wearing a homemade Bloody Mary costume. I dyed a long gown dress dirty gray, applied fake gray painted fingernails, held a bloody knife & mirror adorned in scarey face makeup and stood next to my hubby(Carl) who also designed his homemade costume to look like the wolf Man. He glued brown hair to his face and applied a head piece of fake hair with ears/latex to his face as he painted it borwn. His shirt is torn and applied with fake red blood. His hands are painted brown and has some fake hair attached as well.
"Bloody Mary has found her match"-- She kills & He devowers them!