Binder full of Women Costume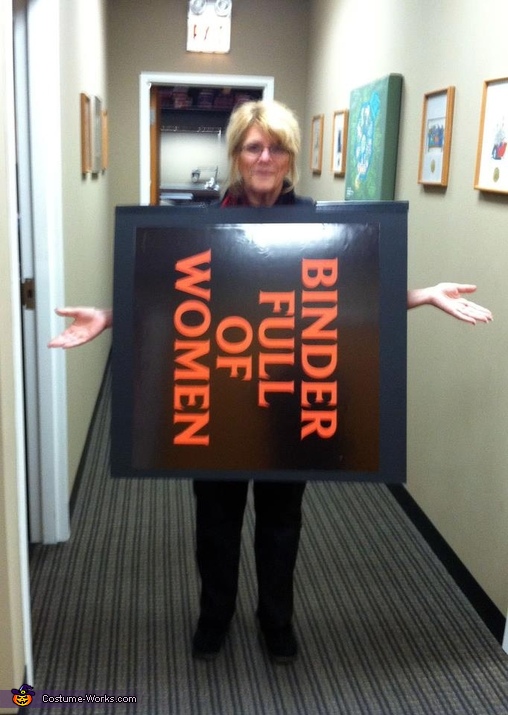 Binder full of Women
More views:
(click to enlarge)
A word from Sandy, the 'Binder full of Women' costume creator:
It was my idea based on a political debate comment. It is incredibly easy.
2 large pcs of heavy black poster board
Large lettering (either painted by hand or press on letters from craft store) (I have a big printer available to me so I was able to print large
Silver flexible edging from hardware store.
Large black electrical/masking tape
Velcro
Score both pcs of poster board about 10" from top of longest side. This will be for the shoulders and head so adjust if 10" doesn't work for you.
Cut a 10" section out of the middle of the shorter scored side. (This will be for your head). Place velcro on both shoulder areas so that one piece will over lap the other. Use the black tape to enforce the scored edges. (That way it won't rip apart as you're wearing it.) You should now have a front and a back of the binder. Place the letters on to spell "Binder full of women" on the front & back. (I also put is on the shoulders in smaller letters but that's up to you. Then make 2 circles large enough for your arms to fit into and velcro to the inside, at the shoulders on each side...to create the look of an actual binder.
This took about 20 minutes to make with hardly any fuss.