Bigfoot Costume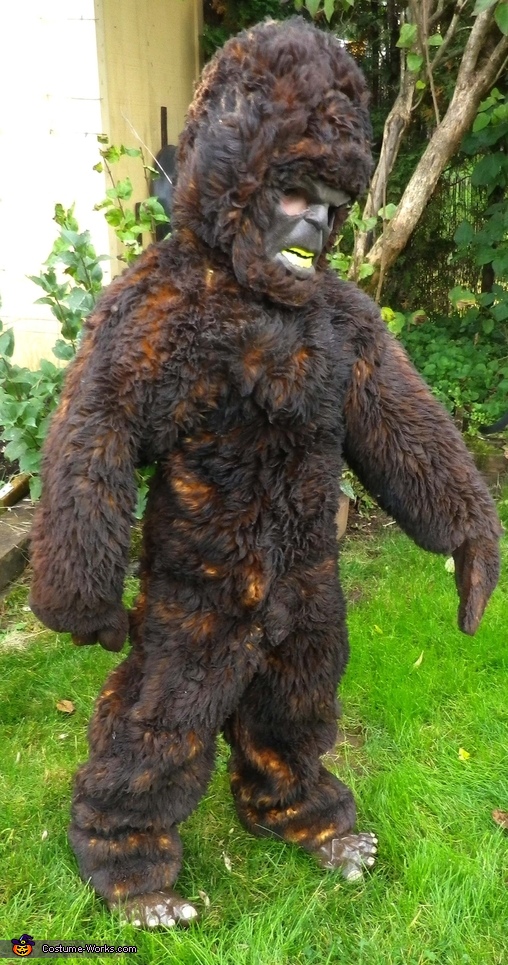 Owen as bigfoot in the classic Patterson/Gimlin Pose
More views:
(click to enlarge)
A word from Cheryl, the 'Bigfoot' costume creator:
My 8-year-old son, Owen, really wanted to be bigfoot. With no costumes available for a child, we made one ourselves.

We started with a Bear in the Big Blue House costume, an Incredible Hulk mask and a pair of slip on shoes. From there we altered and painted the fur suit with fabric spray paint, lots of layers and a few different colors to get a variation of colors. We painted the Hulk mask with spray paint, added scraps from the altered fur suit and painted the teeth with glow paint.

The feet were much more complicated!! I started with a paint of slip-on shoes, I added the top of these fun costume feet that look like bare feet. I glued these feet onto the shoes, painted them with acrylic paint, added paint to the toe nails and sealed them. These feet grew to a size 11 men's size!!! :)

My son even requested a bigfoot crossing candy bag which I also made.

I hope you like it. If you'd like complete directions and more pictures, check out my blog post all about the process.
http://cardsbycg.blogspot.com/