Hiro Hamada from Big Hero 6 Costume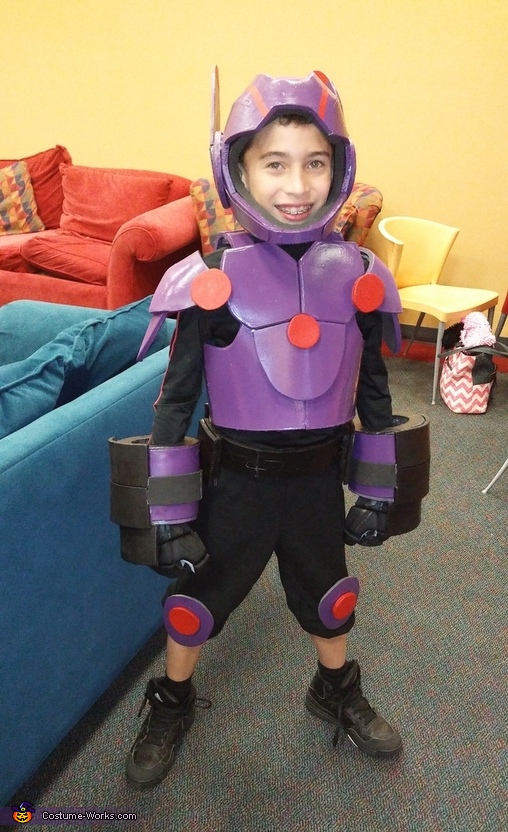 completed. Paint didn't turn out like I wanted was a bit too humid when I tried but looked good enough to finish project.
More views:
(click to enlarge)
A word from Larry, the 'Hiro Hamada from Big Hero 6' costume creator:
My son's favorite movie is Big Hero 6 and he wanted to dress as Hiro Hamada for Halloween. The store bought costume wasn't very good but after searching online I found some cosplay builders online and thought I would give it a try. Started the last week of Sept. finished it Oct. 24th. Started with the helmet first with cardstock paper then went to cardboard, and then went to foam. The helmet didn't turn out like I wanted original so 2 weeks in 10/9 started over on it. I had a deadline of 10/16 to finish building otherwise my son would have to get a store bought costume. Got a pepakura template never doing it before printed and cut it out then created a EVA foam cut out and did the entire helmet over. After than build his armor and found some Lacrosse gloves and created his gauntlets. Cut most everything out of EVA foam floor mats I got at Harbor Freight for $8 for 4 sheets. Gorilla glue and water mixture to seal everything up and prep for paint...took several coats. One mistake I did was not go back over and sand this down more. Glue will sometimes run or puddle so be sure to watch how much you use. After coating if will become harden so you can paint the foam...you can't paint until it is harden as the foam will soak up the paint. I used spray paint but you want to be sure not to do this when it is humid outside as the paint will not set right. Mine didn't on the big pieces. Next time I will Spray smaller area and use sponge brush to spread it. After that paint it you could coat with a clear coat if you like I didn't this time. My son loves the costume so his smile is worth all the time it took to complete. Now we feast on candy this weekend. Good luck to all those who want to be crafty and make their own costume. It is a labor of love.