Beetlejuice Crew Costume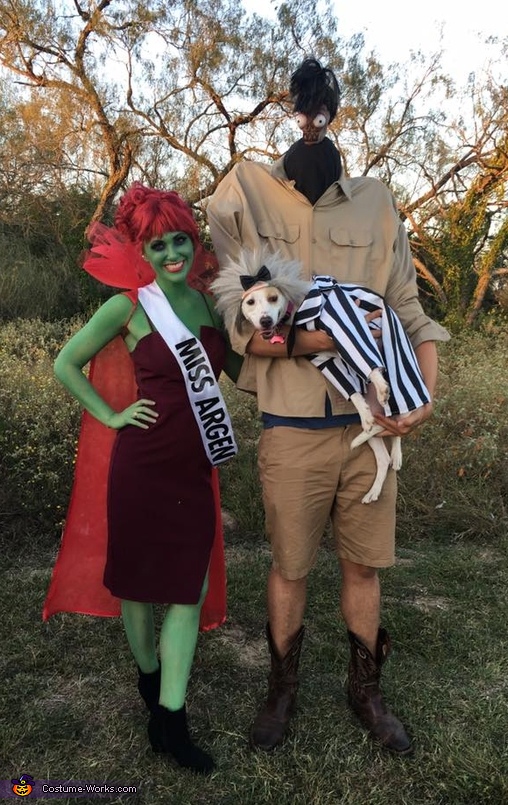 Beetlejuice Crew Costume
More views:
(click to enlarge)
A word from Brooke, the 'Beetlejuice Crew' costume creator:
Until a year ago, I hadn't watched Beetlejuice since I was a kid. When I re-watched the off-the-wall flick as an adult I just knew the fam (me, my husband and our dog) had to be a trio of Beetlejuice characters for Halloween.

I decided our dog, Daenerys (Dani) would be Beetlejuice, I would be Miss Argentina, the dead receptionist, and my husband would be the shrunken head guy. After much Googling, I got to work.

Beetlejuice: I took the easy way out and just bought a costume online for the pooch. I added a bow for a feminine touch. The suit and wig cost about $25.

Shrunken Head: I found inspiration from a Pinterest tutorial and added a bit of my own twist. For the head, I bought a paper mache skull ($1.99) from Michael's, then covered it in kid's air-dry modeling clay ($4.99). I cut ping pong balls in half for the eyes, and painted around them with red acrylic paint to give it a slightly more realistic look. I bought a black wig ($4) at Walmart for the hair. I cut a slit in the back and overlapped the pieces and pinned them together so it would fit the small skull. I hot-glued the wig to the head, then tied it in a pony tail and cut it to the length in the photos. I bought sheer black fabric ($4) from Hobby Lobby and draped it over and glued it to a black hat, which I cut the bill off of. This made it so that when my husband turned his head, the shrunken head would turn, too! My husband is tall, meaty guy, so we ordered a 3X Big and Tall shirt online so that it would still cover his midsection when the collar was on top of his head. This was the most expensive part ($20). We rigged the shoulders with the thinnest PVC pipe we could find. We made a T shape out of it, and fastened it to him with elastic. We used 4 big sponges ($1.50) (the kind you would use to wash your car) to give the shoulders some shape. Since he's so broad, we should have used more, but oh, well. It was still a great costume! He was a trooper and wore it for much of the night. I even cut a hole in the fabric so he could drink through a straw LOL

Miss Argentina: This is by far the most fun I've had with a Halloween costume! I watched a makeup tutorial (https://www.youtube.com/watch?v=WbgoJEO24AI) for the costume online, and bought Aztec Blue and Mantis Green online from Graftobian Pro Paints ($24). They're water-based, so I just wet a make up brush, rubbed it in both colors and slapped it on! It was so easy, my 7-year-old niece painted a leg for me :) It took about 40 minutes to add two layers to my exposed skin and get the look I wanted. I had a blue eyeshadow pallet at home and used that for my eye makeup and to contour my nose and cheek bones. I bought some dramatic lashes from Walmart for $2. I bought the dress from Charlotte Russe for ($25) and made the cape out of red sheer fabric and red satin ribbon I had at home. For the part around the neck, I used a red foam sheet and cut in into a shape similar to what Miss Argentina has in the movie. I took red tulle and bunched it up over the front of the foam, hot gluing the folds as I went. I hot glued the foam/tulle part to the top of the cape. For the sash, I bought black sticker letters at Target ($4) and used thick, white satin ribbon I had at home. I found a "Red Siren" wig at Target for $10. It was already curly, so I put it on my head, cut the bangs and pinned it with tons of bobby pins into an up do. I should have secured it a little more tightly--it came undone a few times while I was belting out karaoke LOL

We had an absolute blast with these costumes and got so many compliments!