Beetlejuice and Barbara Costume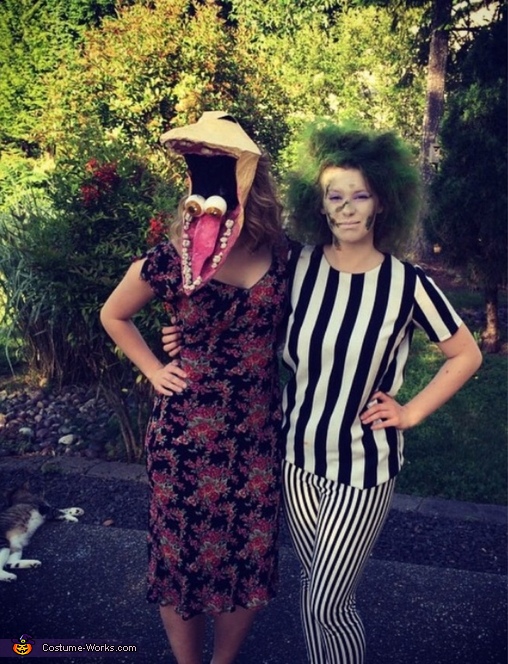 Beetlejuice and Barbara Costume
A word from Madeline, the 'Beetlejuice and Barbara' costume creator:
I am wearing the Barbara costume, while my friend is dressed as Beetlejuice himself. I created both looks as well as an Adam costume.
For my Barbara costume, I used a a couple wire clothes hangers, cardboard, paper, and tape to make the shape and create a helmet like fit over my head. I used liquid latex to make the "flesh" which I painted the flesh color afterwards. I used clay to make teeth, which I used liquid latex to stick to the mouth. The tounge is made out of rolled paper and latex. I purchased styrofoam balls and painted the eyes on, connected with a toothpick. The black "throat" is covered in black tape. I used the same methods to create the Adam costume (not pictured).
For the Beetlejuice costume, we borrowed striped clothes from friends. I teased, hair sprayed, and spray painted her hair green. Her makeup was done with white Halloween makeup you can get at any Halloween store, but softened and smoothed with pan pastel white paint. The purple eyeshadow was also pan pastel paint. The "moldy scars" we're made with liquid latex and green paint and eyeshadow.