Beauty and the Beast with Lumiere Costume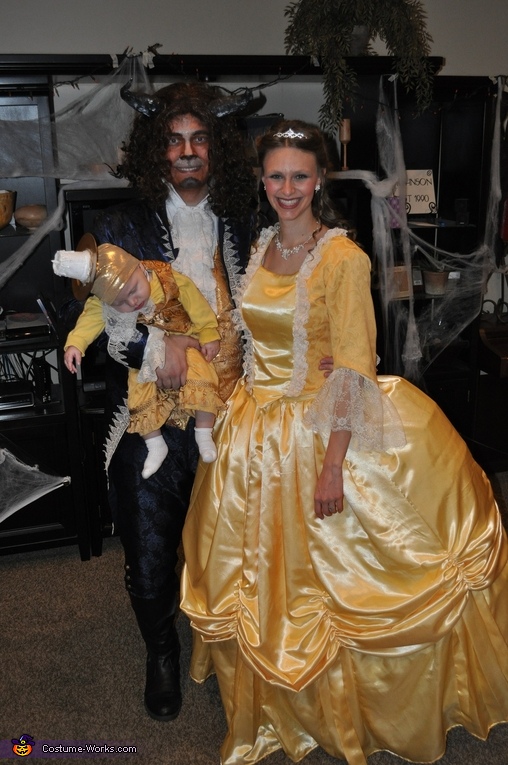 Beauty and the Beast and a Burned-out Lumiere
More views:
(click to enlarge)
A word from Bryan, the 'Beauty and the Beast with Lumiere' costume creator:
This is me, my wife and baby. I have always wanted to do an elegant costume for Beauty and the Beast. I wanted them to look a little more historical, however, so I did some research on French court fashion from around 1800 and based the designs off of that. We originally wanted the baby to be Chip, but couldn't agree on a good way to approach his costume, so we did Lumiere. We were very happy with the results.

They were made from lots of fabric and trimming from favorite stores like Jo-Anns and Hancock. The boots for Beast were pre-owned, and the wig was purchased. I added horns to it. Those are made by crumpling tinfoil into the desired shape, covering with duct tape and paint and bobby pinning to the wig. The Belle dress was also all home made (including the panniers).
For the Beast, the shirt and breaches come from a 1800 pirate costume pattern. The vest was it's own pattern as well, and the jabot was my own design. You essentially need to ruffle several layers of lace and stich them on a square to get the layers. This is then attached to a neckband. I couldn't find a coat I liked (1800 french court coat), so I drafted the pattern from an old costuming book (the History of Costume). I then adjusted it to my sizes, made a few trial mockups, then made the actual coat. I feel that the trim I added really polished it off.
Belle's skirt is based off of the 1860 Truly Victorian ball dress, but of my own design and pattern. I just used some math and made it up. It consists of an under and upper skirt. The under is box-pleated and the upper is rouched up at the bottom. It took 12 yards of fabric to complete. The bodice was based off of an 1800 bodice. I had to make a lot of modifiactions to the pattern, however to fit my wife just right.
Lumiere is a basic pant and vest with a yellow turtle neck. We made a shiny beanie and attached a cheap plate. To make the candle, we took an empty yogurt cup, added an electric tea candle and painted it. The wax look is achieve by dripping super glue.