Beauty and the Beast Costume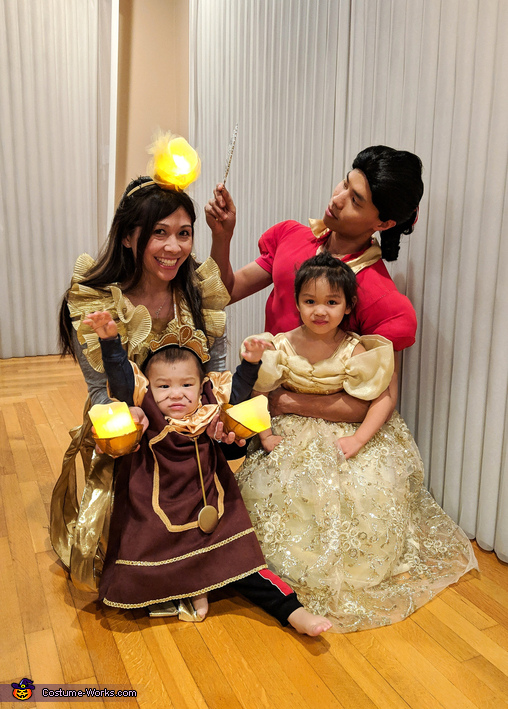 Beauty and the Beast Costume
More views:
(click to enlarge)
A word from Michelle, the 'Beauty and the Beast' costume creator:
My daughter wanted to be a princess for Halloween, so we picked a theme that the whole family could partake in.

Belle: made this into a transformation dress. I had been admiring them for a while and decided to attempt it myself. I saw the gold tulle w sequins at my local fabric store and really wanted to use it, so that's how our theme came to be. Plus they had some beautiful themed fabric that I wanted to incorporate into the bodice of her dress. The rest of the fabric was from the discounted remnant bin. The dress has lots of Velcro so it would be easy for my daughter to remove.

Cogsworth: this is my favorite piece. I used pieces of an old necklace chain and attached an actual clock pendulum. This way the clock would stay while my son walked.

Gaston: we made a muscle shirt with nude stretch fabric and pillow stuffing. Traced a fitted shirt of my husbands and created his top. Then we made some last minute boot covers with leftover fabric from Cogsworth and attached it with Velcro.

Lumiere: I made a basic t-shirt dress and added Christmas ribbon to shape the body. Then I created a scarflike piece and sewed on more Christmas ribbon to give more texture to the finished look.
https://www.instagram.com/dilettanteatheart/