Stay Puft Marshmallow Man Costume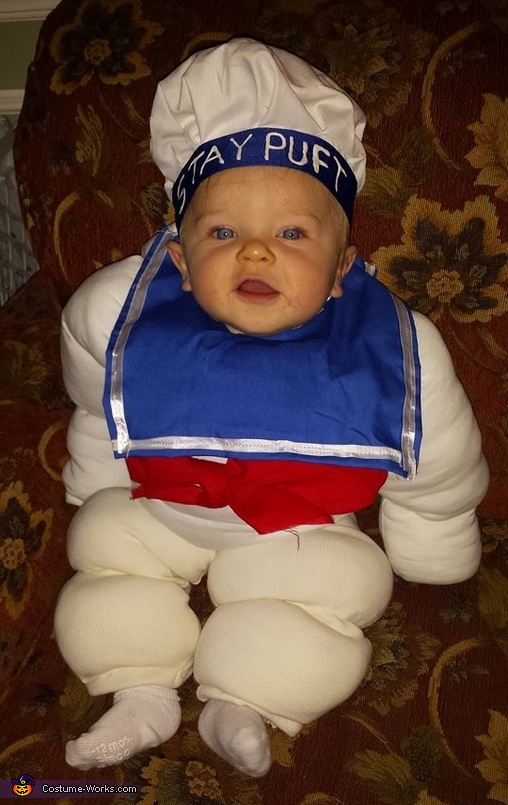 Stay Puft Marshmallow Man Costume
A word from Lisa, the 'Stay Puft Marshmallow Man' costume creator:
My son has the most kissable, chubby cheeks and big blue eyes, so I wanted to make sure his first Halloween costume stood out. After looking for ideas and asking around for suggestions, I came up with the Stay Puft Marshmallow Man. I love Ghostbusters, so what better costume?
I don't really know how to sew, but my stepmom does. So, for the top half of the costume, I took a long-sleeved white onsie and a larger long sleeved white shirt. She sewed the two together at the wrists, filled it with fluff (the stuff to use to make pillows), then sewed around the elbow area to make it look like he had "rolls". Then she sewed the top together, stuffed it with the fluff, then sewed the bottom (like a pillow).
We decided not to make it a whole one piece outfit in case he needed a diaper change. For the pants, I used gray for underneath and my stepmom found some white girl pants (I couldn't for the life of me, find white boy pants). She sewed the 2 together and again we stuffed them like a pillow. She sewed the hat and attached blue ribbon around it that I found at the craft store. Then I took fabric paint and wrote "Stay Puft" across the top.
It was a little difficult to get the pants on, so make sure they are plenty big enough.