Baby Predator Costume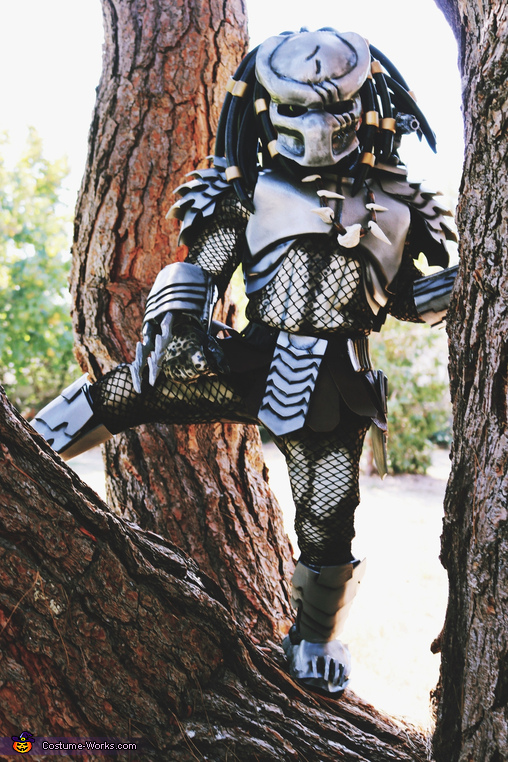 Baby Predator Costume
More views:
(click to enlarge)
A word from Tim, the 'Baby Predator' costume creator:
This costume was hand made by dad Tim Jimenez for my five year old son Jackson Jimenez. Jackson had seen Alien vs Predator and became instantly obsessed with predators! I was never into cosplay or anything before, but I definitely am now!!! I took this on with the bar set fairly low for myself being a complete noob at costume design but that changed very quickly. With Jackson being only 5 I wanted the costume to be very light and functional. The armor I made from about $15 worth of craft foam that I custom shaped and heat formed using a heat gun into armor based on the AvP predators. They are strapped together using a combination of elastic bands, Velcro and dollar store dog collars I took the clips from. Hot glue became my very good friend. The body suit was originally an Ultron muscle suit I bought for $2.50 at the thrift store that I custom airbrushed to look exactly like predator skin. The leather skirt is also craft foam that I used an iron and aluminum foil to give the texture of leather. The shoulder gun and mask I 3d printed then airbrushed. The dreads were made from foam insulation rods I also heat formed and hot glued to a hat that I cut the brim off of and Velcroed the mask onto. The dread rings are made from pvc pipe that I dremeled round and painted gold. The gauntlets were very fun! For the blade gauntlet I used foam floor mats that were a lot thicker and dremeled
Them into proper predator blades. The bomb gauntlet features real predator countdown numbers I hand painted for authenticity. The total cost was around $90 for the printed items bringing the complete cost in the $150 dollar range, but was worth every penny and more. I entered him in the Son of Monsterpalooza costume contest and he won first prize in the kids division! He was a big hit at the convention having his picture taken with more than 200 people in 2 days. He's having so much fun being a star I know he'll be sad once Halloween is over. Since his costume hit Facebook and YouTube and Instagram I've had MANY MANYrequests from all over the world to custom build predator costumes and while I may wind up making some, they will never measure up to Jackson's costume because it was made with the most important priceless ingredient of all. LOVE.