Ape Woman Costume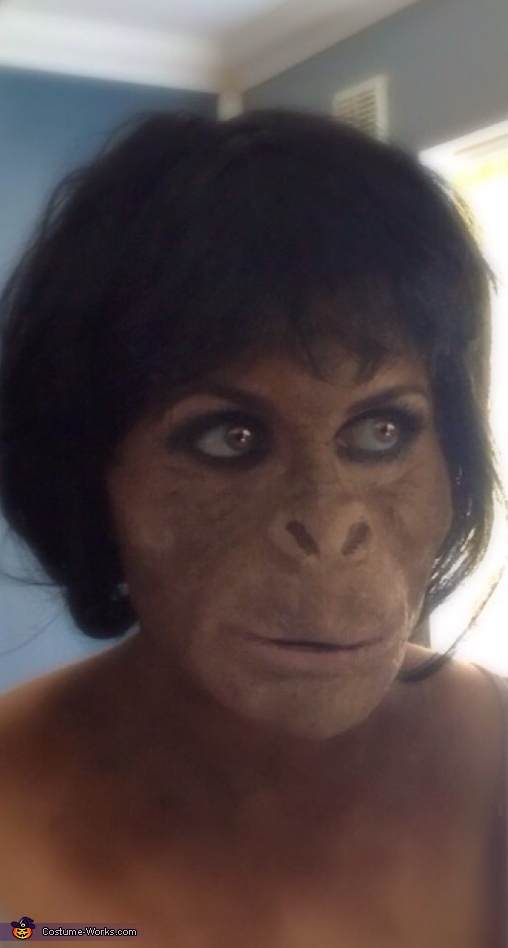 Process of creating the prosthetic piece
More views:
(click to enlarge)
A word from Megan, the 'Ape Woman' costume creator:
This is a look I created on myself using a variety of materials including clay,liquid latex,cream makeup and other bits.

I started by building the base for my prosthetic piece. I did this by moulding clay onto a simple white mask to shape the nose.cheeks and chin. Once i was happy with the look I left the clay to dry before applying 10-12 thin layers of liquid latex over it (allowing each layer to dry before appling the next one). I also made sure that i spread the latex thinnly around the edge to give it a more flush look to the skin when applied (that waythere shouldnt be anyway of telling where my skin ends and the prosthetic piece begins). Once this was completely dry i then carefully removed it (dusting with powder so the latex would not stick to itself) and set to one side. When it came to applying the piece i used spirit gum to fix it to my skin and then went over the edges with a thin layer of latex to ensure it was blended well. Once that was dry i then used cream based makeup to create the colours and overall look. I popped in some brown contacts and a black wig to finish the look. This was insipred by helena boham carters charter in tim burtons planet of the apes.