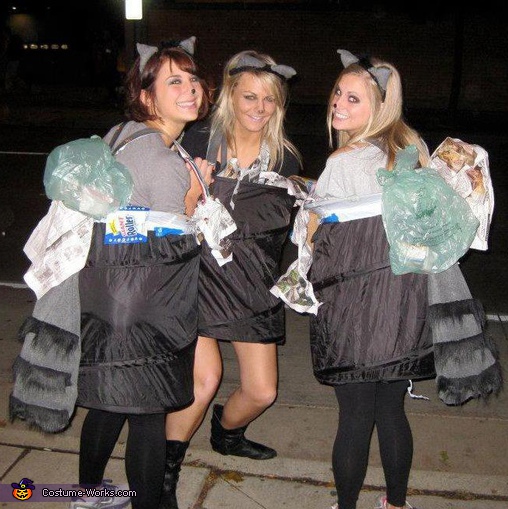 Naughty Garbage Scavenging Raccoons
A word from Becca, the 'Naughty Garbage Scavenging Raccoons' costume creator:
Busted! These three naughty racoons, named Becca, Rachel and Taylor, got caught snooping through the garbage for a late night snack. The costume was inspired by a recent encounter with a furry friend in the dumpster behind our apartment. All we needed to make the trash can was a pop-up clothes hamper with holes cut in the bottom for our legs, suspenders to hold it in place and duct tape to secure the empty and CLEAN food cartons/plastic bags/newspapers in place. We cut out grey fabric and sewed it over a pair of cat ears to make the racoon ears. We used the rest to cut and sew a tail that we stuffed with newspaper and covered with stripes of black fur. Then we sewed the tail onto the back of the garbage can. We topped the look off with a heavy dose of black nose and eye makeup and spent the rest of the night scurrying around the city.