Amelia Earhart Costume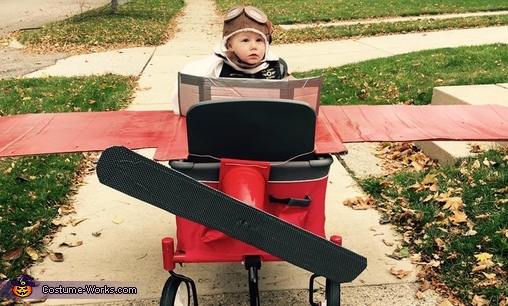 Amelia Earhart Costume
More views:
(click to enlarge)
A word from Rachelle, the 'Amelia Earhart' costume creator:
My husband and I were looking for a costume which would be unique and stray away from the mainstream costumes marketed to young girls. As our daughter is names Amelia we chose Amelia Earhart as she is a prominent female historical figure and she shares the same first name as our daughter. Another big deciding factor was that we could make this costume warm since we live in Wisconsin.
For her outfit we bought all of the pieces separately. We purchased a bomber jacket, riding pants, black boots, white flying scarf, and a bomber pilot hat with goggles. For the airplane we took her red wagon we already had and added to it. My husband used cardboard spray painted red and made the wings which balanced on top of the wagon. The window is another piece of cardboard held on with duct tape. The propeller is a red solo cup spray painted and affixed to a small board along with more cardboard cutouts covered in duct tape and glued to the cup. We used wire attached to the under board to hold this to a seat in the wagon to keep it in place!
People loved this costume! We heard comments from "very creative" to "how unique." Many asked how we came up with this. Many were impressed that this was not a conventional costume for a young female toddler. This Amelia Earhart safely landed after her trick or treating flight!