MERRY CHRISTMAS everyone! As a gift to you I have put in some free Christmas Games to enjoy. Take a break from shopping and kick off your shoes and relax. I've got something for everyone here so CLICK the LINK above the little PREVIEW PICTURE of the Game and have a blast!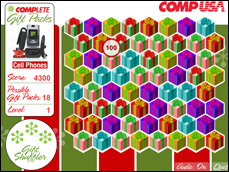 I will be adding more Christmas Games (if/when I can find some) so keep checking back.
Regretably these games don't work on ALL Browsers (they don't work on "Netscape" for example)..and only some of them don't work on a few browsers (go figure)..HOWEVER! ALL of the Games DO work on MOST Browsers so I HOPE you and yours can all enjoy ALL of the Games to your hearts content. THAT'S why I put them here! So Good Luck and ENJOY!