1920s Silent Film Movie Set Costume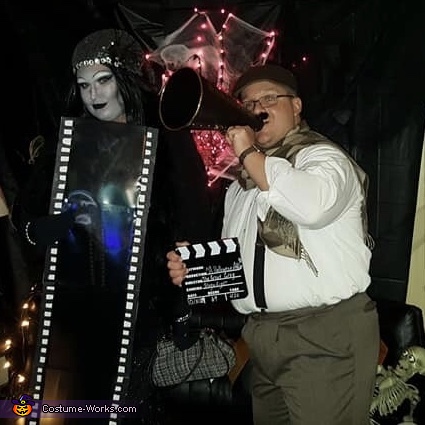 Silent film movie set
More views:
(click to enlarge)
A word from Natasha, the '1920s Silent Film Movie Set' costume creator:
Here is our homemade costumes for my husband and myself to wear this Halloween. We love movies and decided to amp up a typical movie costume by portraying the original film movies. I am the "Actress on a film reel" and my husband is the "Director".

Our clothing was purchased all at area thrift stores. He donned a newsboy cap, suspenders, pants, plaid scarf, dress shirt, costume mustache,and argyle socks. He also used a movie clapper and microphone that said director both purchased online from a costume website. He yelled "Cut! Action!" All night Long! It was really funny and the microphone really projects, so it grabbed everyone's attention.

I wore a pin stripe blouse, glitter skirt, black gloves, pearl jewelry, grey nylons, boa, mary Janes, short black wig, sequin hat I owned. I made my headband from elastic, diamond rhinestone beads and glue, I made my feather fastener with feathers and gems. I did my makeup all grey scale style with clown makeup and black lipstick and eyeshadows to make me look like a black and white movie screen. I also added big fake eyelashes. My film reel prop was hand crafted out of translucent black office file folders cut up and white and black scrapbook paper. I used a ruler to align the black tick bars together and cut out white squares to glue them onto the film edges. Glued it all together with a glue gun. Took about nine hours to construct the film reel. I also made a dialogue board from a chalkboard easel I got at the craft store and used a white sharpie pen to write on it. My dialogue said "He's my one true love!" I walked around hiding behind the film reel and pulled it down beneath my eyes to scare people. I didn't speak.

We entered several contests at bars in town and won second place at a few of them. Everyone kept taking our pictures! Very unique and fun to wear. These two combined cost us $120 to create and put together. We really stole the show in these vintage movie costumes!